Meet Robert Stanek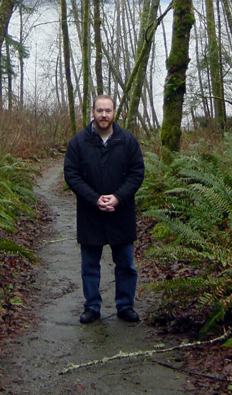 Robert Stanek has been writing stories for over 30 years. Though he's always been a writer at heart, he never set out to be a writer. What he wanted to be, he didn't know when he said goodbye to high school. What he wanted to do though, he knew that: he wanted to see the world—and so he did while serving my country in distant lands.
Robert Stanek wrote novels for more than ten years before he ever tried to get published. His big break came with a book about publishing—only a different sort of publishing than you may be thinking. The book was about web publishing and so his career in writing began. While he wrote those other books, he wrote many, many stories and books, and he collected them for a long time, until at his children's urging he set out to get them published for others to enjoy.
Robert Stanek's most popular books are those set in the fantasy world of Ruin Mist. More than a million people have read the Ruin Mist books, they include:
Four 'Kingdoms and the Elves of the Reaches' books
Four 'In the Service of Dragons' books
Two Ruin Mist: Magic Lands novels
Four 'Ruin Mist Chronicles' novels
Two Dragons of the Hundred Worlds novels
Three Guardians of the Dragon Realms novels
Illustrated Encyclopedia of Ruin Mist
Keeper Martin's Guide to the Fantastic
Art of Ruin Mist: Heroes and Villains
When he's not writing about the world of Ruin Mist or writing technical books, he writes picture books for children. Recently, four new Robert Stanek picture books were published. They include:
+ Pirates Stole My Booty (A Silly Pirates Picture Book)
+ Mamma Sea Turtle Lost Her Babies (A Silly Colors and Shapes Picture Book)
+ Twelve Dresses, One Star (A Silly Picture Book About Being Who You Are)
+ How Many Fish? (A Silly Counting Picture Book) (Silly Picture Books)
Buster, Lass, Cat, Barry, Dag and the other critters have always been his kids' favorites. His son dressed up as Buster Bee for Halloween many times and would wear the costume to school for character day too. Fun for Robert, as the critters and their stories developed from his experiences with his kids and the world around them as they grew up. Parents and kids seem to really connect with the the stories and their lessons because of the characters too.
Robert developed a love for the classics as a child—classics like Treasure Island, The Swiss Family Robinson, Kidnapped, Robinson Crusoe, and The Three Musketeers. He spent so many hours reading Jules Verne, Sir Arthur Conan Doyle, Edgar Rice Burroughs, Ray Bradbury, Herman Melville, Jack London, and Charles Dickens. He also loves the works of W. B. Yeats, J. R. R. Tolkien, Anne McCaffrey, Poe, H. G. Wells, L. M. Montgomery, and Frank Herbert.
Robert Stanek's Guide to Publishing & Being an Author:
Traveling the Writer's Road | Taking Your Work From Print to Film
Selling Rights to Your Books | Viewpoints on Rejection Letters
Understanding Bestseller Lists | Finding Success as a Writer
How Far Indies Have Come in so Few Years | Understanding Book Sales Data
Understanding Publishing Today | From 4th Grade Musings to Published Pro
Don't Quit Your Day Job Just Yet | Tours of Duty - Write What You Know
Using Twitter Effectively | Now Appearing... Places Books Have Been
The Road To Success | Understanding Long-tail Publishing
How I Made This Crazy Thing Called Writing a 20-year Career
$200 Million Man in 2014: What It's Like to be Wildly Successful as an Author